Hire one of our many sports courts
---
We have two large arenas that can accommodate many sports, such as badminton, basketball and volleyball. The home of Team USA for London 2012, and now the training space for professional basketball team, the London Lions, come and play where legends train.
Courts
---
View the available courts:
Basketball:
We have 4 basketball match courts and 2 show court.
Badminton:
We have 20 badminton courts.
7-A-Side:
We have 1 outdoor pitch.
Futsal:
We have 2 match courts and 2 show courts.
Netball:
We have 4 netball courts.
Volleyball:
We have 8 volleyball practice courts, 4 match courts and a show court.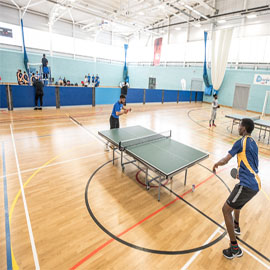 Table Tennis:
We have 7 tables to hire.
General Enquires:
If you have any enquires about other sport, please contact us!
Newsletter
Keep up with our always upcoming product features and technologies. Enter your e-mail and subscribe to our newsletter.